I've always heard great things about Nashville and after my time in Memphis, I knew I couldn't visit Tennessee without visiting Nashville! (Side note: I live in Seattle, but the place I was raised is in the hot, dirt-filled desert a.k.a. the country. I've never owned a cowgirl hat or boots, but Nashville brought out some country roots suppressed deep down in me, so much so that Luke, Carrie, and Rascal would be proud).
Friday
You don't get a nickname like Nashvegas for nothing. In no way to be missed, Broadway Street is one ginormous country party with bright neon signs, drinking tractors, dozens of bars packed with live music and dancing til the wee hours of the morning. As my dad would say, you can't swing a dead cat and not hit a honky-tonk. Crossing them off one by one, we hit Luke Bryan's and Honky Tonk Central, both pulling out my inner country much sooner than I would have imagined.
For dinner beyond beer, we went to Etch a block off Broadway for a modern dinner with many others enjoying similar dishes. Though I lack a sweet tooth, I'd definitely recommend ordering the olive oil cake for a delicate, subtly sweet dessert.
Friday night in Nashville is basically yours to drink and honky-tonk away, so grab your dancing boots and make your way to iconic honky-tonks like Robert's Western World, Bluebird Cafe, and Tootsies for a night turned morning you won't forget. Want more music? Download the Nashville Live Music Guide App to stay on top of all the best live music no matter what day you are there.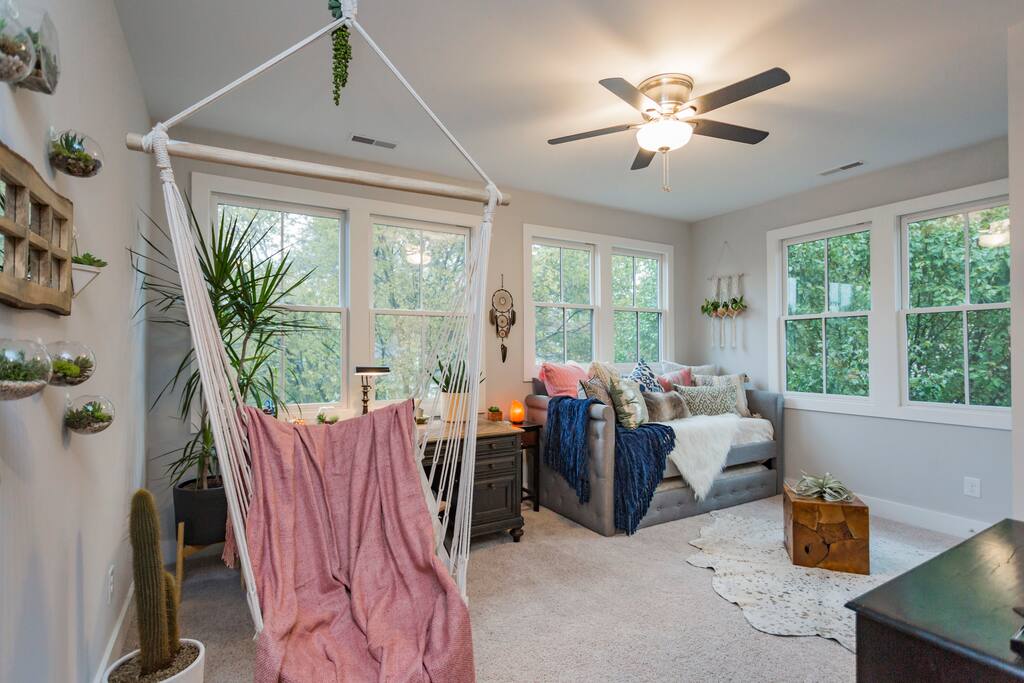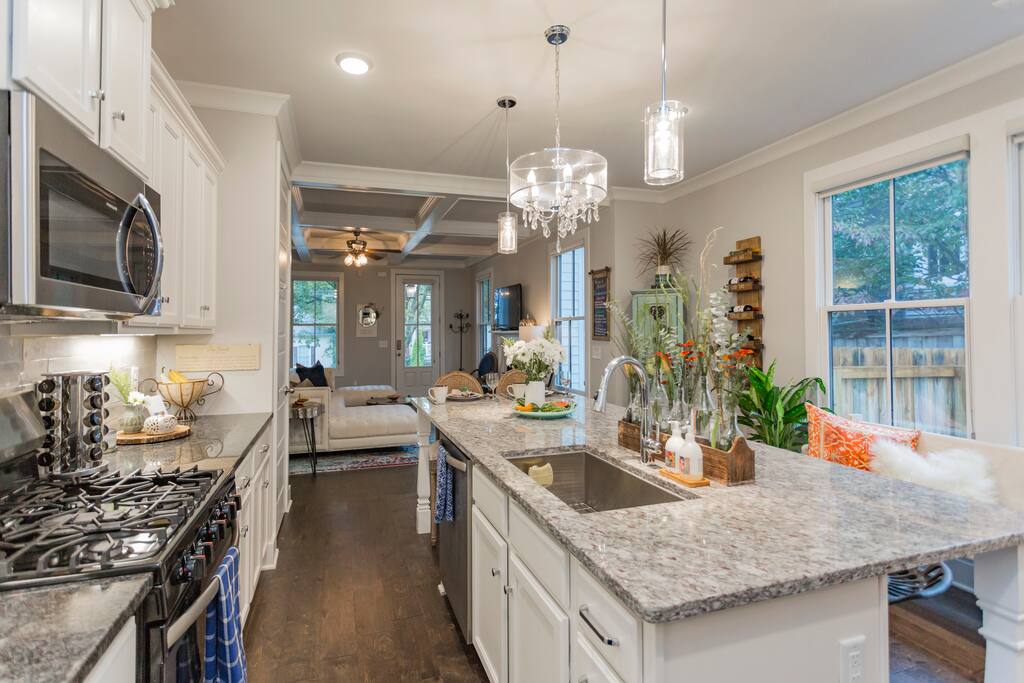 Through one of my most used travel accommodation companies Airbnb, I found the most adorable space in East Nashville called  The Nash Nest hosted by our lovely local Kaylea. One of my favorite parts about Airbnb is finding little treasures like The Nash Next that are not only extremely well-decorated with great amenities, but whose friendly hosts turn into local friends excited to share more about the place they call home. Every little touch, from the local guides and personal notes, to the porch swing and backyard patio, made this place the absolute epitome of Southern charm and hospitality. Even better, this Airbnb just became an Airbnb Plus meaning book your room now before everyone else does 🙂
Whether it's coffee at Barista Parlor, burgers at Pharmacy, and a sweet treat at Jeni's Ice Cream, or taking a walk through Shelby Park or finding your perfect pair of cowboy boots at The Idea Hatchery, East Nashville's quirky vibe and buzzing community reflects Budget Travel Magazine words that East Nashville is "Nashville's version of New York's East Village". Cool art murals, fun stores, upbeat bars, and a thriving scene has made East Nash undoubtedly Nashville's hippest neighborhood. Make some room on your schedule and pop on over to the east side for a bit.
Saturday
Before everything opened for the day, I took to doing some touristy things because insider tip, places are much less touristy earlier in the morning (pros of being a morning person!). The 'I Believe in Nashville' sign in 12 South was the first item on my checklist. Apart from being a positive piece of propoganda, this Nashville mural and the surrounding areas are loaded with art like the AVO wall, Rolf and Daughters wall, and WhatLiftsYou Wings that signify more than just a pretty wall.
On our way to the Instagram hotspot, we stumbled upon the Frothy Monkey, a local coffee shop chain that signaled its popularity with a long line outside despite being 30 degrees warm. I'm not a big coffee drinker, but the maple whisky latte with almond milk hit the spot I didn't even know I needed hit. Frothy Monkey has a few other locations around the city and with a great breakfast menu to pair, this is one of those local gems everyone can't help but love.
Seattleites love their brunch, but Nashville's brunch game is a strong competitor. So many places to choose from, we settled on Butcher and Bee in East Nashville. I've read reviews about their heavenly whipped feta and dang, the reviews were right. Start with the whipped feta, add in a "Mushroom in the hole", some lamb biscuits, and enjoy the Butcher and Bee's vibrant atmosphere, friendly service and fresh Israeli twist on Southern brunch that is sure to please any palate.
Full on brunch we decided to hit at least one museum, settling on the Country Music Hall of Fame. There are music museums left and right here (including but not limited to the Johnny Cash Museum and RCA Studio B), but this one encompasses all country music from past to present and has a massive collection to show for it. A bit crowded for my liking , but interesting and interactive for country and non-country music lovers alike. On your way out, be sure to stop by Hatch Print Shop, a 138-year-old print shop that is known for its letterpress prints in the entertainment industry and continues to make posters to this day.
When in Tennessee, you've got to drink Tennessee whiskey.
With not an ounce of knowledge about whiskey, I took a few recommendations and dragged willingly my dad and I to Nelson's Green Brier Distillery. They have daily tasting tours and we were just lucky enough to catch the last one of the day so make sure you schedule in advance if you want to make it in. While waiting for our tour, we killed some time at the Marathon Village, a repurposed car manufactory filled with vintage shops, little boutiques with jewelry and home goods, a few merchandise stores like Jack Daniels and Harley Davidson, a speakeasy, along with a few other great tasting rooms like Tennessee Legend Distillery and Corsair Distillery.
By definition, Tennessee whiskey has two requirements making it different from bourbon. One, it must be made in Tennessee (go figure). Two, prior to aging the whiskey, it must be filtered using the  Lincoln County Process prior to aging the whiskey. "By filtering the newly distilled spirit through the charcoal prior to barreling, the process strips the whiskey of much of its harsh flavorings and creates a smoother, more easy-drinking spirit" (Paste). As impressed as I was with the process, an even greater surprise awaited me: This pure-bred Seattleite likes whiskey. There I said it, don't tell anyone because I still am not sure of it myself.
Saturday dinner at Rolf & Daughters was nothing less than spectacular. Once again, Nashville adds a bullet point to their registrar of hip, fun, dang good food places. Rolf & Daughters is tucked away in Germantown off an unassuming street and while their octopus was my personal favorite, their speciality is their handmade pasta rivals some of the best Italy has to offer.
Dinner and a show tended to be our regular programming, but this night it so happened we were in town for the Grand Ole Opry at The Ryman. To clarify for the confused like myself, The Ryman is the name of the auditorium that the show, The Grand Ole Opry, was originally held in from 1943-1974. As the show continued to gain popularity from the likes of Roy Acuff, Hank Williams, and even President Nixon, The Grand Ole Opry show then moved to a larger venue then turned themepark Opryland USA. In 1998, a benefit show brought the Opry back to the Ryman and since then, shows billed as Opry at The Ryman allow the show to acknowledge it's roots while being in a smaller venue for off season shows while the rest of the year it is held at The Grand Ole Opry House.  "The Show That Made Country Music Famous" as it's known, our show featured talented artists like Ellie Holcomb and Scotty McCreery, and the idols of my childhood Riders in the Sky (Woody's Roundup and You've Got a Friend in Me from Toy Story). If you know you are going to Nashville a few months ahead, be sure to buy tickets as early as possible because they sell out quick.
Sunday
Sunday morning we took it slow and I picked up my first kolache from Yeast Nashville. What's a kolache you might ask? As defined by Yeast: "A Bohemian (or traditional) kolache is comprised of a sweet, yeast-based dough with with a fruit, poppy seed, or cheese filling. At Yeast Nashville, we make the Czech/Slovak variety which is similar to a Danish, the difference being the consistency of the dough. Where a Danish is light and flaky, kolache dough tends to be a little more dense and sweet; similar to a Brioche bread." I'm always looking for ways to see and taste locally so I intentionally stumbled upon Yeast Nashville (that also happens to be voted the city's best bakery) and am happy to confirm this Tex-Czech treat featuring the most incredible dough ever gets my vote too.
One thing that has been on my bucket list since forever is attending a Southern black gospel church. Thankfully we were in town on a Sunday and after a little bit of research, put on our Sunday best for Born Again Church. All I can say is WOW. THIS is what the South is made of. I don't think I have smiled so much or hugged so many people in a two and a half hour period. Directly from my dad's mouth, "If people want to hear good music, go to the Grand Ole Opry second. This is where real music lives." I couldn't agree more. Attending service at Born Again brought a deep sense of joy and community one rarely feels, and I cannot recommend this experience enough. Whether religious or not, knowing the South is knowing the church and boy oh boy, I can confirm God is good.
After a revitalizing morning, we went to the über hipster Pinewood Social, an all-inclusive bar, restaurant, social club complete with bocce ball, an indoor retro bowling alley, airstream and outdoor pool. This is THE place for families and friends to gather for a good time. Friendly bartenders, cool design and amenities, and a variety of groups spending time together will keep you here long after your meal has ended.
Finally time for the long awaited dinner at Husk. I've admired Chef Sean Brock for a while and after listening to podcasts like Unspoken and reading about his achievements I was more than excited to eat here. His original restaurant is in Charleston, but this second post lacks no distance or detail. Elevated Southern set within a historic mansion from the 1800's, classics like shrimp and grits is blanketed with a shrimp foam while a simple baked dumpling squash gets topped with miso marinated kale and popped sorghum. I can see and have tasted what all the rave is about, and if you want to experience flavors of the South outside BBQ and fried chicken, eat at Husk.
Up, L27 or Rarebird (which has a speakeasy as well) are three great rooftop bars perfect for late night drinks overlooking the lit city below. For more music, another live music venue you don't want to miss is the Station Inn, specifically on Sunday nights when they have live bluegrass music playing from afternoon until night. No matter what time of day or night, you'll be sure to find knock-you-off-your-feet live music in Music City.
Monday
Unlike Seattle, Monday brunch is a thing in Nashville and I'm here for it. Originally planning on European delight Marché, we went to Milk and Honey for a yummy start to our morning. One tip for eating at all these delicious though popular places without waiting in line until next year is if your party is small enough, grab seats at the bar instead. Milk & Honey also has an artisan product wall with things like goat milk caramel and sea salt from around the world that for a foodie like me are fun little splurges.
For a good rainy day activity, drive out to the Gaylord Opry Resort and Hotel to have your mind blown. Forty-seven acres, 2,800 rooms, it's basically a massive adult Disneyland terrarium, if you can imagine such a thing. My aunt is in HR for the Gaylord Opry and after mentioning it multiple times, seeing it for myself went far beyond photos. Just this weekend they set up the Christmas lights which added to the extravagance of this mega resort. Whether you are staying here or just want a peek, it's a magnificent production in and of itself.
I'm a sucker for farmer's markets and even though the Nashville Farmer's Market produce was lacking (due to the prime season being May-October), they still have an indoor food court that has a little taste of everything, from ice cream to an international ingredient store to wine bar. If you want to get your Tennessee shop on, Two Old Hippies is the place to find anything from boots and jackets to cards and books of everything Southern. Otherwise, downtown on Broadway is the Nash Collection, a local brand for younger adults featuring the NASH branding on all products. Sports fans can unite at the Bridgestone Arena in 'Smashville', home to the Predators. Dad was very eager to shop in their team store and had they been playing, we would have switched out dinner for a game.
Of all the food in Nashville, it wouldn't be a trip to Nashville without Hot Chicken. It's an endless debate over which is better (the original Prince's, the modern ) but from my consensus, Hattie B's Hot Chicken is THE PLACE. Just do it. You might regret it, but you definitely won't. At this point my body was screaming for vegetables and driving out to True Food Kitchen in Hillsboro was the answer to my prayers. Cute and friendly servers, bumpin' beats, and a mission focused on serving real food filled my soul and stomach with food happily.
Ya'll, Nashville is the place to be. Humble homebodies meet hoppin' honky-tonks and friends sip n' sing all night long. I do love the PNW and will always be a mountain girl, but there's something about Nashville's Southern charm, hospitality, culinary scene, and good for you jams that makes this big yet small city hold a place in many a heart, including my own.
"I admire this town a lot. They take care of their own. There's not a lot of places in the world, much less America, that do that. It's just a great place." – Justin Timberlake, to The Tennessean